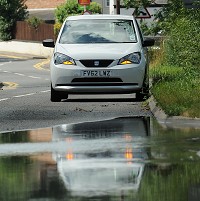 The market town of Todmorden in West Yorkshire has seen roads and railway lines submerged in one and a half feet of water, after torrential rain hit the region on Monday.
Flash flooding meant emergency services and breakdown cover vehicles worked late into the night clearing the water and dealing with hazards such as partially collapsed roads and stranded vehicles.
Drivers were asked to avoid the area completely by West Yorkshire Police, as houses in the small town are being damaged by waves created by cars driving through the water.
Following severe flooding last year, Prime Minister David Cameron was moved to visit the area, but Monday's flooding followed a day of severe and slow-moving thundery showers that affected the whole country.
Three flood warnings issued by the Environment Agency remain in place, two of these are on the River Spodden in Whitworth in Lancashire, and another at Walsden in Todmorden - where people should expect flooding and take immediate action.
Eight other flood alerts have also been issued across the country.
Later this week, however, the hot weather is expected to return, with forecasters predicting temperatures of up to 30C (86F) in the south east on Thursday.
Copyright Press Association 2013