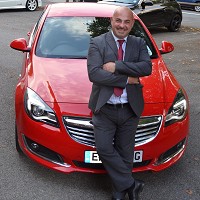 Getting his company car to cover almost 1,000 miles on a single tank of fuel has helped a sales manager treat his family to a holiday in southern Italy without breaking the bank.
Toomey Leasing Group's Dino Landico used his diesel Vauxhall Insignia to drive his family of four - and all their luggage - 3,200 miles to Naples and back, achieving an average of 59 miles per gallon as he crossed the continent.
Mr Landico says the car's fuel economy meant the family had been able to travel 990 miles on one tank of diesel and enjoy their holiday at an affordable price.
Toomey Leasing Group's managing director, Martin Wroe, says with employees using the company's fleet cars at both work and home, fuel consumption had been a key factor when opting for the new Insignia.
And he says with the vehicle boasting CO2 emissions of just 98g/km - 128.3g/km was said to be the UK average for new cars last year - it is helping the firm's commitment to be kinder to the environment.
Copyright Press Association 2014