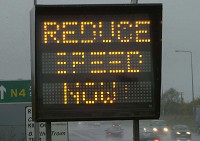 Plans to erect £10 million-worth of message-flashing road signs in Scotland have been attacked as "unnecessary" by Lib Dem transport spokeswoman Alison McInnes.
According to Ms McInnes, the 79 variable-message signs, which highlight a range of traffic alerts, reportedly cost £135,000 each to install and £1,800 a year to run.
She says: "I want transport minister Stewart Stevenson to call a halt to Transport Scotland's plans to install these potentially unnecessary road signs across Scotland."
She initially questioned the need for one of the signs on the A90 at West Pitmillan near Ellon, saying it would only provide local transport information with no wider benefit.
Says a spokeswoman for Transport Scotland: "Traffic Scotland has a vital role in monitoring, informing and controlling the trunk road network efficiently.
"Variable-message signs (VMS) play a crucial part in that function and in improving journey time reliability."
Copyright © Press Association 2009