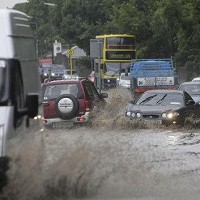 Motorists in Dublin are being warned only to drive unless necessary following severe thunderstorms that saw almost three weeks' rainfall in just 90 minutes.
Flash flood warnings have also been issued by the Met Office to homeowners in south Wales and south-west England as the summer heatwave continues to serve up torrential rain as well as soaring temperatures.
In Dublin's Mater Hospital, patients escaped unharmed when a ward roof collapsed on the top floor. The hospital's A&E department was also forced to close due to flooding. In a separate incident, twenty people had to be rescued from an apartment block off the North Circular Road.
The downpour caused chaos across the capital for rush-hour commuters, halting train services between Dun Laoghaire and Dalkley and making some parts of M1 almost unusable.
Authorities have warned that the forecast of further heavy showers in the coming days twinned with the high tide could worsen the extent of the floods.
Copyright © Press Association 2009