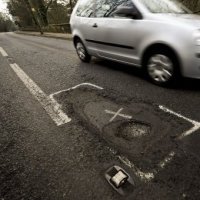 Getting the nation's roads back up to scratch would cost nearly £12 billion, a new report claims.
The costly assessment is detailed in the Asphalt Industry Alliance's Annual Local Authority Road Maintenance (ALARM) survey.
The RAC says although disappointing, the report's findings are "not surprising". It is calling on the Government to do more to improve the condition of local roads.
The ALARM report says it will cost £11.8 billion to complete the backlog of required repairs and get roads in England and Wales back into a reasonable condition.
Despite 2.2 million potholes being filled over the last 12 months, it adds, the time that work will take has risen from 13 years to 14 since this time in 2015.
The report also estimates that on average it will be 67 years before a "non-principal" road gets resurfaced.
Commenting on the report, David Bizley, the RAC's chief engineer, says: "These findings are disappointing, but unfortunately not surprising. While around £1 billion a year has been allocated by central government for local roads in England between now and 2020, their condition appears to be getting worse rather than better.
"While the Government's Road Investment Strategy is ensuring the future 'fitness-for-purpose' of the strategic road network in England there is a very real danger that local roads will suffer ongoing decline through insufficient investment and no long-term strategy to improve them. What use would it be having excellent motorways, major roads, railways, ports and airports if, when getting to or from them, you are faced with pothole-ridden, crumbling local roads where, of course, all journeys start and finish?
"The message to the Government has to be that local roads are just as important as rail services and the strategic road network, as their condition limits the effectiveness of the rest of the country's transport infrastructure."
The Local Government Association's transport spokesman, Peter Box, says budget cuts mean councils are only able to patch up, rather than properly repair, damaged roads.
He predicts the crisis will worsen unless the condition of roads is made a national priority.
Copyright Press Association 2016. Motoring News articles do not reflect the RAC's views unless clearly stated.