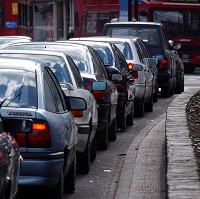 Vulnerable road users should get the same five star protection on foot as those sitting in vehicles, the Institute of Advanced Motorists (IAM) claims.
The road safety charity is asking the government and car manufacturers to make pedestrian-friendly car fronts a top priority.
While the number of deaths and serious injuries to car occupants fell by 524 in 2011, they increased among vulnerable pedestrians.
Now, as UN Global Road Safety week puts worldwide pedestrian safety under the spotlight, the IAM is calling on the government to take the lead in lobbying the European Commission and car makers to make radical changes.
"While the people in the car are much safer, in the case of a crash with a pedestrian or cyclist, the front of the car is not as forgiving," said Simon Best, the charity's chief executive.
"Much more can and should be done through car design to minimise the damage caused."
New research by IAM shows that the average Euro NCAP rating for car occupants in super minis in the last three years is 82% while for pedestrians it is far lower, at 53%.
Copyright Press Association 2013