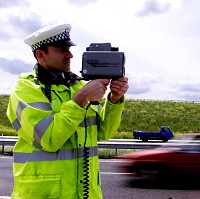 A police crackdown on Aberdeenshire's roads caught five motorists doing over 100mph in the space of just three days.
Four cars and a motorcycle were clocked travelling between 100mph and 103mph on the A90 between Peterhead and Aberdeen, as part of Operation CEDAR (Challenge, Educate, Detect and Reduce) across the region.
The offenders - all male aged between 23 and 55 - have been reported to the procurator fiscal.
Operation CEDAR saw various police units carry out dedicated patrols and speed checks on the roads each morning from 4-6 August, plus additional checks on goods vehicles with the help of the Driver Vehicle and Standards Agency .
More than 100 drivers were stopped, of which 62 were reported or warned for a variety of offences.
Trunk road policing sergeant Steve Manson says it is disappointing that so many drivers were found to be breaking the rules of the road.
A collision between vehicles travelling at high speeds can result in serious injury or a fatality - and he is calling on drivers to take responsibility behind the wheel and consider the potential consequences of their actions.
Five drivers were stopped for using mobile phones, four were dealt with for careless driving and three were pulled over for not wearing seatbelts.
Two motorists had their vehicles seized for driving without car insurance , while another two did not have a valid MOT.
Speeding accounted for 38 of the stops. The rest were dealt with in relation to minor road traffic offences.
Sgt Manson adds road safety is a priority for Police Scotland. Operation CEDAR, which aims to remind drivers of their responsibilities, is one of several high-profile road policing operations in Aberdeenshire.
Copyright Press Association 2015
https://www.gov.uk/government/organisations/driver-and-vehicle-standards-agency (Driver Vehicle and Standards Agency)