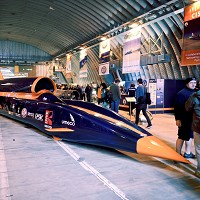 After months of meticulous preparation and a lot of sleepless nights it was all over in seconds.
But the engineers behind the bid to produce the world's first 1,000mph car say they are very satisfied with the first test of its hybrid rocket engine system.
The stationary engine was fired up in a hardened air hanger at Newquay Cornwall airport. It ran successfully with no hint of abreakdown for just 20 seconds before the satisfied engineering team behind the £10 million Bloodhound supersonic car project shut it down again.
Data is now being analysed to ensure it is safe to install the hybrid rocket engine into a car.
Rocket engineer Daniel Jubb, who had been getting just 90 minutes of sleep a night during the run-up to the test, said: "The initial indications are that it went very well indeed."
The 28-year-old, who left school at 13 to run his own company with his grandfather, said following the analysis they would prepare for the next firing. He added: "We have a lot of safety testing to make sure we are happy to put this rocket into a man's vehicle."
Copyright Press Association 2012