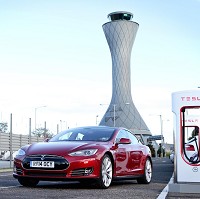 A US-based electric motor manufacturer has opened its first charging station in Scotland.
Motorists driving Tesla's Model S can now set their journey planner to Edinburgh Airport.
A round-the-clock facility in the Almond Road car park is the latest in the Californian car maker's expanding "Supercharger" network. Tesla hopes that this network will soon enable such drivers to travel all over the UK exclusively using Superchargers.
Motorists using the new charger will get one hour's free parking while topping up.
Tesla's George Ell says the latest Supercharger facilitates motoring from the capital to Stirling and Glasgow and beyond.
Mr Ell, the director of the company's UK Country sector, says these are "exciting" times for its Scottish initiative.
He says further developments are planned for Edinburgh with a service centre and store expected in 2015.
The zero-emission Model S can accelerate from 0-60mph in 3.2 seconds, according to its website.
Copyright Press Association 2014