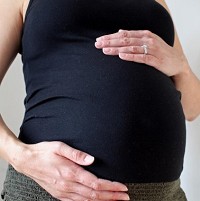 The first ever seatbelt designed especially for pregnant women has been launched by a British inventor.
Stephen Weston at the University of Bolton developed the PiXie Harness, which is designed to be safer for the unborn baby than a standard seatbelt.
The technology works by attaching a traditional three-point seatbelt into the PiXie Harness, which prevents any straps being placed across the passenger's baby bump and instead acts as an anchor for the shoulder strap system.
The device is launched after recent research suggested around two-thirds (64%) of pregnant women think standard seatbelts are dangerous for their baby and another 87% are not currently wearing the seatbelts correctly.
A revolutionary aspect of the PiXie Harness, according to motoringresearch.co.uk, is the fact that the straps mean the pregnant woman is held securely in her seat in both lateral directions.
The UK inventor of the seatbelt is in the process of seeking further investment to widen the distribution of the product.
Having won two Gold Awards at the British Invention of the Year awards, Mr Weston now intends to launch a modified version designed to keep small children in place during car journeys and another version for Stoma patients.
Copyright Press Association 2013