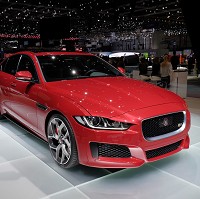 Jaguar has officially revealed its new kid on the block - the XE.
While pretty much the entire motoring population has known about the saloon for some time, this did not stop the British automaker pulling out all the stops at the Geneva Motor Show.
It will rival the BMW 3 Series, Audi A4 and Mercedes C-Class when it hits forecourts in May.
With four-cylinder petrol and diesel engines available from the start, not to mention the option of either Rear- or four-wheel drive, drivers are spoilt for choice. Even the engine can be mounted in longitudinal or transverse configurations.
The XE is a mid-size Jaguar. But don't be fooled by its compact size, the saloon still packs a punch. A performance variant in the pipeline, which is likely to be called the XE-R, will be capable of hitting 186mph (300kph).
Ian Callum, Director of Design at the manufacturer, says drivers will be getting the whole package with the newcomer.
He claims it is brilliant to run and practical to own, yet the design and drivability have not been compromised.
The most efficient diesels in the range are rated at less than 100g/km for emissions, while Jaguar's new Ingenium family of diesels will replace the ancient 2.2-litre Ford-derived diesel currently found in many Jaguars and Land Rovers.
Copyright Press Association 2015