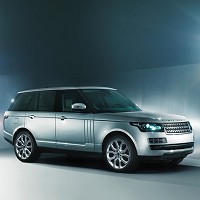 The new lighter, roomier Range Rover 4 x 4 will be made at Land Rovers Solihull plant in the West Midlands.
With the vehicle available to customers from early next year, Land Rover has published its first pictures.
Land Rover global brand director John Edwards said: "The new Range Rover preserves the essential, unique character of the vehicle - that special blend of luxury, performance and unmatched all-terrain capability.
"However, its clean sheet design and revolutionary lightweight construction have enabled us to transform the experience for luxury vehicle customers, with a step change in comfort, refinement and handling to create the most capable Range Rover ever built."
In other words, fingers crossed, you won't need to claim on thatbreakdown cover .
The new Range Rover has a 39% lighter body compared to its predecessor, due to it being made from a lightweight aluminium as opposed to the previous steel body. There will also be a more luxurious interior with additional legroom and comfort, including those passengers in the back.
Copyright Press Association 2012