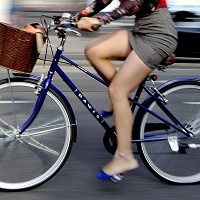 Some of the biggest businesses in Britain are calling on politicians to make cycling a key component in their transport plans.
Sky, National Grid and Orange are among the 24 major employers that have written to the main political parties, urging that cycling is good for business.
The letter emphasises that these companies have millions of customers and workers - and encourages the parties to set challenging targets on investment in cycling and walking to meet the pledges made in the Infrastructure Act.
They want 10% of all journeys to be made by bike within the next 10 years, and 5% of the money spent on transport to pay for road and junction projects that encourage people to cycle.
They also want all local authorities to adopt the same expert design guidance by the end of next year.
Businesses say cycling makes people less likely to take time off work through stress and illness and also makes employees more productive.
Copyright Press Association 2015