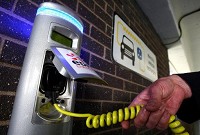 Two major car firms have announced their intention to launch an electric car in Europe by the end of 2010.
Mitsubishi Motors and PSA Peugeot Citroen said the car, which will be built in Japan, will be modelled on the Mitsubishi i-MieV, which was released in Japan in June. The car manufacturers hope to reach global sales figures of 50,000, according to PSA Peugeot Citroen spokesman Jean-Marc Sarret.
Mr Sarret said that these sales will be split between the two manufacturers, with Peugeot and Citroen making half the sales in Europe, while Mitsubishi focuses on Japan and the rest of the World.
Once ready, the car will be able to drive for 130 kilometres (81 miles) between charges and the battery should take six hours to become fully charged, said Mr Sarret.
The names of Peugeot and Citroen's cars will be announced in the near future.
Copyright © Press Association 2009