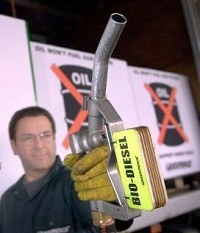 An environmental company is turning used cooking oil from restaurants into fuel for vehicles.
Mansfield-based Untapped Resource collects unwanted waste from establishments. Around 30 restaurants across the country are interested in the scheme.
Those which opt for it have to pour used oil into a vat provided to them. The oil is then processed and turned into bio-diesel.
Maria Gibson, of Untapped Resource, said: "We go out to small restaurants, fish and chip shops and so on, we collect their waste and deliver it to a local green bio-fuel processor, where it is turned into diesel."
"Water companies have been struggling for years to clear drains of blockages of fat. We're trying to help resolve that problem," she added.
"Any vehicle that runs on ordinary diesel can run on bio-fuel, which is as economical and eco-friendly."
Legislation from 2007 means that small businesses are responsible for disposing their own cooking oils and waste, which has become a problem for some.
Kasa Miah, of Mansfield Indian restaurant Naaz, said: "If you put fat down the drain it blocks up, we have to clean it. Now we just pour it into a vat and ring the company to come and collect it when it's full.".
Copyright © Press Association 2009