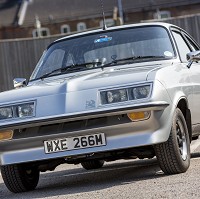 Car enthusiasts have gathered to celebrate the 40th anniversary of Vauxhall's Firenza 'Droop Snoot'.
The Droop Snoot Group attended Vauxhall Motor's Heritage Centre in Luton to pay homage to the "iconic" model, which was well known for its sloping front-end.
Alongside 13 recently restored Firenzas, 40 other Vauxhall models were on display including British saloon racer Gerry Marshall's 'Old Nail' from the the 1970s.
The two-day event also saw a selection of cars take to the speed bowl and hill route at Millbrook Proving Ground in Bedfordshire.
Dave Childs, spokesman for Droop Snoot Group, said it had been a "privilege" to attend the event at the home of Vauxhall, applauding the attendance of the Droop Snoot chief engineer, Roy Cooke.
Simon Hucknall, Vaxuhall's PR Manager, spoke of his pride at hosting such an event and the importance of remembering the 1973 Firenza HP - which was also Vauxhall's first model to go from 0-60mph in 10 seconds.
"We have a long and illustrious track record of producing iconic sporting cars, like the HP, and this tradition still continues with the current VXR range, which this year celebrates 10 years in the UK market," he said.
Copyright Press Association 2014