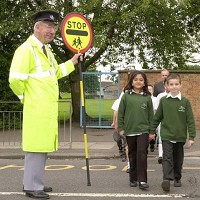 Firefighters will team up with police to deliver road safety lessons to schoolchildren in Northern Ireland for the first time.
The Northern Ireland Fire and Rescue Service (NIFRS) will take part in a road safety campaign after reaching an agreement with the Department of Environment and the Police Service of Northern Ireland.
The two emergency services were invited to pass on their experience to schoolchildren by environment minister Edwin Poots.
"This new co-ordinated approach to the delivery of road safety education within schools will make best use of our resources and expertise in our collective fight towards a continued reduction in child road traffic casualties," said Mr Poots.
"Teaching safety skills to children can provide lifelong benefits to society and should be seen as an ongoing long-term intervention," he said. "Evidence shows that children remember effective and sustainable development of positive attitudes to road safety by linking it on a regular basis to issues being covered within the core curriculum."
The number of child deaths on the road have been in decline since the mid-seventies. There were only seven child deaths on the road last year, compared to 55 in 1977. There have been three children killed so far this year.
Copyright © Press Association 2009