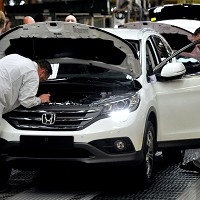 Honda is recalling 268,000 CR-V models built in 2002 to 2006 for fear that a fire could start in the driver's door due to a faulty seal on an electrical switch.
Honda said the problem had caused four fires to date, though there have been no resulting injuries or crashes.
Due to an imperfect seal on the master switch, liquids can enter the electrical switch resulting in overheating and a fire. One UK car owner has reported a burning smell.
There is only a problem if liquid is spilled directly on to the switch, or if heavy rain were to enter the car through the driver's window, a Honda spokesman said.
Beginning next month, Honda will contact affected owners to arrange a time when the company can install a cover plate inside the switch at no cost.
Owners of the Honda CR-V are being contacted and asked to bring their car to the local dealership for a check. All car owners should be protected with car insurance.
Copyright © Press Association 2012