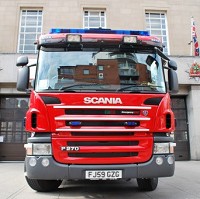 Firefighters rescued six times more people from road crashes than house fires in the last three years in England, new figures have revealed.
They rescued around 23,600 people following road crashes in the three years to the end of March 2012 compared to around 3,600 from accidental house fires, according to data obtained from the Department for Communities and Local Government.
The figures were released to help publicise the United Kingdom Rescue Challenge 2013, an event taking place in Liverpool this weekend and featuring teams from 39 fire and rescue services across the UK.
Motorists from elsewhere in the country taking to theirjourney planner in order to plan their visit will get to see the participants taking part in challenges such as rope rescue, casualty management/trauma care, extrication/vehicle rescue, water rescue and urban search and rescue.
Around 600 competitors are expected at the event, which is organised by Merseyside Fire & Rescue Service in collaboration with the United Kingdom Rescue Organisation.
Dan Stephens, chief fire officer at Merseyside Fire & Rescue Service, said the event shows the public the range of skilled rescue operations carried out by firefighters in the UK.
Copyright © Press Association 2013