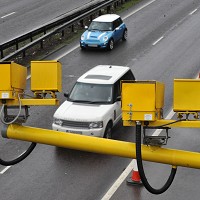 Drivers caught speeding on the motorway could soon be forced to pay up to £10,000 by way of penalty.
It follows a government announcement of a fourfold increase in the maximum fines available to magistrates.
The dramatic hikes - part of proposals to give judges greater powers when it comes to punishing crimes dealt with in the lower courts - could also see steep rises in the size of fines issued for other speeding offences and driving without insurance.
Motoring groups have labelled the new fines as disproportionate while it is also feared a number of motorists would be put off challenging unfair speeding tickets.
Pete Williams, head of external affairs at the RAC, said: "What we're seeing is an ever-increasing level of fines and penalties for motorists coming out of Whitehall with little-to-no improvement in how these are enforced.
"While legislation clearly needs to act as a deterrent, there seems little point in making such massive hikes without the proper infrastructure to back it up.
"Many motorists who do speed or use their mobile at the wheel don't think they will get caught despite the already significant fines. When will we hear the Government is investing in better road safety awareness campaigns and police on the roads, rather than just doling out what looks like revenue-boosting punishment?"
Motorways speeders currently face a maximum fine of £2,500 as well as the prospect of higher car insurance premiums in the future.
Under the proposed changes the maximums in each category will increase from:
:: Level 1 - £200 to £800. Includes unauthorised cycle racing on public ways.
:: Level 2 - £500 to £2,000. Includes driving a motor cycle without a protective helmet.
:: Level 3 - £1,000 to £4,000. Includes the sale of alcohol to a drunk person or being drunk and disorderly in a public place.
:: Level 4 - £2,500 to £10,000. Includes speeding on the motorway.
Copyright Press Association 2014