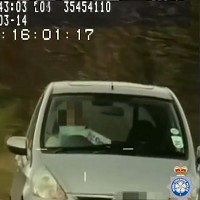 A North Yorkshire man caught on camera driving his car while reading a map, for over 10 seconds, has received a fine and a ban.
Peter John Rigby of Beamsley, Skipton was arrested on 4 March after police cameras spotted him flicking through a road atlas while driving his Honda Jazz.
North Yorkshire Police followed him with cameras, and in new footage released by the force he is seen with the map in front of him for a prolonged period, paying little or no attention to the road ahead.
Officers were first alerted to Mr Rigby when his car was spotted wandering across the white line of the overtaking lane on the A59 at Beamsley Hill.
After he pleaded guilty to dangerous driving at Skipton Magistrates' Court last Friday, 73-year-old Rigby was fined £1,080 and ordered to pay a victim surcharge of £108 and costs of £85.
He was also banned from driving for a full year and ordered to take an extended driving test.
Dave Brown, safety camera team manager at North Yorkshire Police said Rigby's view will have been "completely obscured" as he studied the map, adding that it could have ended in disaster in other circumstances.
Copyright Press Association 2014