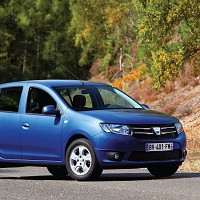 Dacia has announced it will offer finance deals for its new Sandero model from just £69 per month, making it the cheapest car to buy on finance in Britain.
The Sandero will offer hope to motorists struggling to find a new vehicle and cheapcar insurance in tough economic times. The Sandero will target families that want to cut their motoring costs with its entry-level price of £5,995.
In return for a deposit of £1,845, the supermini will be available at a cost of £69 a month over four years. Another of the various finance schemes available would see Dacia ask for a deposit of just under £700 and monthly payments of £99, at 9.9 per cent APR.
The Sandero will be available early next year, along with the Duster, a compact SUV. Motorists looking to buy early can do so online, or via 135 dealers countrywide, with a refundable £100 deposit.
The vehicles come with a standard three-year, 60,000-mile warranty, which can be upgraded to a five-year, 60,000-mile option for as little as £5 per month when paying by straightforward hire purchase. A seven-year, 100,000-mile warranty is also available at an additional cost.
Copyright Press Association 2012