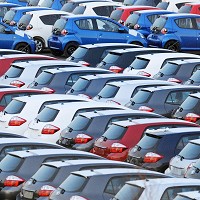 The majority of cars purchased in the last year were bought on finance from dealerships, according to figures.
Data from the Finance and Leasing Association, a trade body which represents the motor finance industry, showed that over two-thirds of new cars bought were secured with the support of credit finance sold by dealerships.
From April 2011 to April 2012 the number of new car sales purchased this way had risen by 29%.
The used car market also showed growth over the 12 months to April and the number of these cars bought on finance increased by 17%. The cost rose by 12%.
Head of motor finance at the association, Paul Harrison, said: "Incentives from dealers and finance companies supported significant growth in new car finance in 2012, and a record two-thirds of all consumer sales.
"The wide range of innovative finance products seen in the new car market are increasingly available to used car customers, and that has helped to revitalise the market."
Copyright Press Association 2012