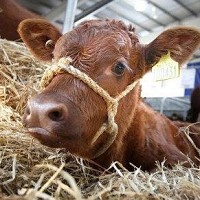 People heading to an agricultural show in Stoneleigh, Warwickshire should expect a long wait in traffic as the 170-year-old event is due to attract 100,000 visitors when the gates open for the final time.
The Royal Show, which is run by the Royal Agricultural Society of England (RASE), has faced a number of problems in recent years, with foot-and-mouth disaster in 2001, flooding in 2007 and the arrival of bluetongue in the UK.
But organisers have been forced to call it a day after falling visitor numbers meant the event was "no longer economically viable".
The show, which will be held at RASE's headquarters, dates back to 1839 when it was first held in Oxford, but since then it has been a key date in the British farming calendar taking place each year except during the wars and disease outbreaks.
But sadly the 160th show this July will be its last as low visitor numbers and the economic crisis has become too much for the show to compete with.
Chairman of Trustees, Hugh Oliver-Bellasis, said: "In the aftermath of foot-and-mouth, closely followed by very bad weather and bluetongue last year, the event has struggled - both financially and in its ability to attract both farming and non-farming visitors."
Copyright © Press Association 2009