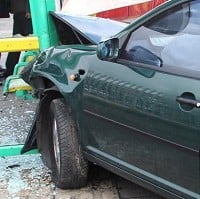 New government statistics have shown that the number of 20 to 24-year-olds being injured in road accidents is almost double the national average for all adults.
Between the years 2010 and 2012, a total of 6.7% of people aged between 20 and 24 said that they had been hurt in a traffic accident. The figure compares to 3.8% for the all-adult (aged 16 and over) age group.
Those aged between 25 and 29 reported a 5.8% rate of injuries received as a result of accidents, while 5.9% of 30 to 39-year-olds reported that they had been hurt in the same way.
The age group least likely to have received injuries in a road crash during the three-year period proved to be those aged 60 and over, which had an accident injury rate of only 1.8%.
The figures were provided by the Department for Transport, which questioned 17,000 people.
Overall, 1.6% of adults (16 and over) had been injured in a road accident in 2012, while 5.7% had reported being involved in a road accident (whether injured or not) last year.
Of the slight injuries, whiplash accounted for 57% over the 2010-12 period, followed by minor bruising or cuts. Fractures and broken bones were the main serious injuries, followed by severe shock.
Copyright Press Association 2013