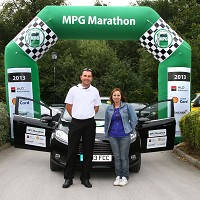 Once again a Ford Fiesta has won the ALD Automotive/Shell Fuelsave MPG Marathon.
It is the second successive year that a model of popular motor has taken home the prestigious crown.
A 1.6-litre diesel Fiesta Econetic driven by Nick Chapman and Rosemary Homer from Leicestershire County Council achieved 88.69mpg over 339.3 miles on what some observers described as the toughest course yet for the annual event.
Hills, bad weather and heavy traffic were all obstacles faced by the 46 competitors who set out from Tankersley Manor, near Sheffield.
But despite the impressive performance of the passenger-carrying Fiesta, it was put in the shade by a Fiesta Sport Van in the hands of BBC Transport Correspondent Paul Clifton and his son, Doug.
The Sport Van averaged 108.82mpg over 362.9 miles, meaning just 3.3 gallons of diesel were consumed.
Both Fiestas share the same 94bhp diesel engine with automatic engine stop-start technology, while they each have lowered suspension and a special rear under-tray for greater aerodynamic efficiency.
Low rolling resistance tyres and special wheel trims complete the fuel efficient package.
Copyright Press Association 2013