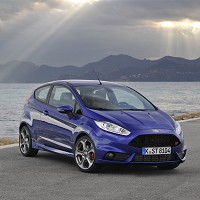 Ford's new Fiesta ST is generating plenty of interest, with twice the number of orders the car giant expected in its first six months on sale.
Around a third of the orders made in the whole of Europe for the award-winning Fiesta ST have come from Britain, with more than 3,000 requests since its debut in March. Ford's initial prediction was 5,000 sales a year.
The company has decided to increase production of the model by 15% to as many as 60 a day to meet the increase in demand. UK customers are said to have accounted for 56% of reservations made with dealers in Europe.
Roelant de Waard, vice president of marketing, sales and service for Ford of Europe, describes the consumer reaction to the new Fiesta ST as extraordinary. He said it is already a classic and he confirmed that the company would do all it could to make more to satisfy the many customers who can't wait to take outcar insurance and get out on the roads.
The Fiesta ST's success comes after the Focus ST became the best-selling hot hatchback across the Continent after sales began last summer. Ford sold 4,000 Focus ST models in the first half of 2013.
Copyright Press Association 2013