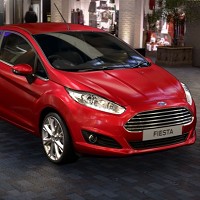 The organisers of the Commonwealth Games will be hoping that plenty of new records are set this month, but the Ford Fiesta has already started.
No other model of car has sold more units in the UK than the Fiesta after its sales figures hit an all-time record of 4,115,000 this month.
The Fiesta has topped the UK small car market for 27 of the 37 years since it was introduced in 1976, and has sold more units in Britain than any other model since 2009.
A total of 4,105,961 Ford Escorts were bought between 1968 and 2000, but the Fiesta has now surpassed that total and sales show no sign of slowing.
One of the newest Fiestas to roll off the production lines is being driven by England netball player Sasha Corbin, who is one of the company's athlete ambassadors. Hers is one of 1,120 Fords that will be used during the Commonwealth Games in Glasgow this month, including a Fiesta with the registration FMC1 to mark the model's new record.
The extraordinary Fiesta is selling twice as many units as its nearest competitor, according to Ford Britain's chairman and managing director Mark Ovenden.
He says owners of the latest version are driving a stylish and dynamic car packed with the company's latest technologies, including the much-heralded 1.0-litre EcoBoost engine.
Two fifths of new Fiesta owners buy models with the award-winning engine and nine out of 10 opt for the higher spec models like the Zetec, Titanium and ST versions.
Copyright Press Association 2014