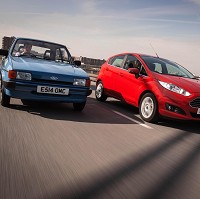 Ford has celebrated 30 years of making mass market diesel-powered cars by picking up a prestigious award in the sector.
Diesel Car magazine named the Ford Fiesta the Small Car of the Year for a third year in a row.
The first mass-market Ford diesel was a Fiesta which came off the production line in 1984. The popularity of diesel engines has grown over the years and now over a third (38.5%) of all Ford car sales are diesels.
The company sells almost 119,000 diesel cars a year.
The Fiesta has been the UK's best-selling car for the past five years but has changed substantially since the company's first volume diesel engine was produced. The company did make a 2.1-litre, 64PS diesel in the large car range from 1977.
Originally the Fiesta used the same 1,608cc diesel engine that was used in Escorts and Orions, but that was boosted to 1,753cc in 1988 and became a mainstay of Ford products for almost 20 years.
In 2007 the 1.8-litre diesel was replaced by a greener Duratorq TDCi turbo-diesel common-rail engine, returning to a 1.6-litre capacity. Later followed a 1.4-litre TDCi engine.
Ford's Dagenham Diesel Centre (DDC) opened over a decade ago and is the home of Ford's small-capacity diesel engine production. DDC makes engines for the Fiesta, but also for the Mondeo, S-MAX and Galaxy ranges and the Fiesta and Transit Connect vans.
Copyright Press Association 2014