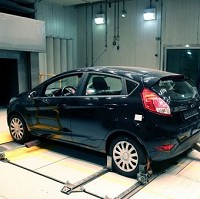 Ford once again dominated UK car sales in August.
The Fiesta was the best-selling car last month, followed by the larger Focus model. The Vauxhall Corsa completed the top three best sellers for August.
According to the Society of Motor Manufacturers and Traders (SMMT), some 72,163 new cars were registered last month - the 30th consecutive month of growth and some 9.4% higher than August 2013.
So far in 2014 some 1.53 million cars have been sold, up 10.1% on the first eight months of 2013.
August is the last month of the 'old' number plates, so SMMT said it is a typically quiet month for car sales, accounting for just 3% of the annual figure.
September, when the number plate changes, is far busier, generally making up some 18% of the year's registrations.
SMMT chief executive Mike Hawes said the industry's performance compared to the rest of Europe is "particularly impressive". He said growth had been ahead the rest of the EU for the past two years.
Other cars in the top 10 best-selling models last month were the Volkswagen Golf, Vauxhall Astra, Audi A3, Volkswagen Polo, Fiat 500, Vauxhall Insignia and Nissan Qashqai.
Copyright Press Association 2014