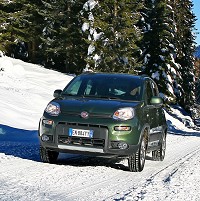 Fiat Group Automobiles UK has announced its new Panda 4x4 is available from £13,950, while the two-wheel drive Trekking starts at £12,450.
Fiat has produced 6.5 million Pandas over more than three decades, with the first 4x4 version introduced 29 years ago.
The new models in the third generation Panda range starts at £13,950 OTR for the 0.9 TwinAir 85hp 4x4, increasing to £14,950 OTR for the 1.3 16v MultiJet 4x4 diesel version. The Fiat Panda Trekking is slightly cheaper, starting off at £12,450 OTR for the TwinAir version and £13,450 for the MultiJet.
Its permanent four-wheel drive system allows the new Panda 4x4 to combine first-rate on-road handling with assured off-road capabilities. Body-coloured '4x4 style' bumpers with satin aluminium finished skid-plate, roof rails and side mouldings with '4x4' logo are among the car features, as well as 15-inch dark alloy wheels, black wheel arches and side skirts, and raised ground clearance suspension.
The award-winning TwinAir 0.9-litre petrol (85hp) engine gives the 4x4 a top speed of 103mph and the Trekking a maximum of 106mph. The Panda 4x4 does 57.6mpg and the Trekking 61.4mpg, while the CO2 figures are 114g/km and 105g/km respectively.
Before buying any new car, it is imperative to find appropriatecar insurance . Having the right insurance can avoid extra costs in the long run.
Copyright Press Association 2012