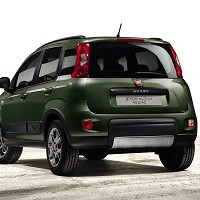 Fiat has taken the wraps off the latest 4x4 version of the Panda, its best-selling small car.
The new Panda will go on show to the public at the Paris Motor Show, starting September 29.
Using a permanent four-wheel-drive system with clever electronics distributing torque as required, the Panda 4x4 is designed to have genuine off-road ability and good road holding in winter conditions.
The "supermini" has two differentials and a coupling linking the two axles. An electronic control unit constantly assesses grip and distributes torque accordingly.
And something called an Electronic Limited-slip Differential brakes any slipping wheels, shifting torque to the wheels with more grip.
The system means the souped-up Panda can compete with much bigger off-roaders when the going gets rough, says Fiat.
Two engines will be available - the established 0.9-litre TwinAir turbo, burning petrol, and a 1.3-litre MultiJet II diesel unit.
Copyright Press Association 2012