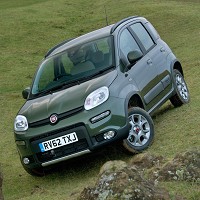 Fiat's Panda 4x4 has been crowned best in its class by a dedicated off-road publication.
4X4 Magazine handed the 'Winner Mini 4x4 Class' gong to the Italian car maker as part of its yearly awards, with editor Nigel Fryatt praising it for its "surprising" capabilities against bigger and pricier models.
He said: "One of the surprises of this year's test was just how good the Fiat Panda 4x4 is.
We used a test facility that was designed to demonstrate the abilities of far bigger - and much more expensive - vehicles.
"Allowing for limited ground clearance and power, we still managed to crawl the Panda over and through some significant obstacles.
You needed care, and perhaps we took it further than most owners would, but that's irrelevant.
The point is that the Panda 4x4 could do it, with some style."
As part of its testing the vehicles were put through their paces at an off-road course in Cheshire.
Priced at just £13,995, any extra savings would be worthwhile spent on breakdown cover to safeguard your vehicle.
Elena Bernardelli, FGA UK marketing director, said: "It is remarkable that 30 years after we launched the original Fiat Panda 4X4, it remains not only a best-seller but also a favourite of the experts.
"That the Fiat Panda 4X4 can go toe-to-toe with so many luxury off-road vehicles proves that you don't have to sacrifice capability or practicality in order to reduce your running costs or to do your bit for the environment."
The Panda 4x4 boasts an award-winning 85hp TwinAir turbo petrol engine or a 75hp 1.3-litre MultiJet II turbo-diesel engine, with combined-cycle fuel economy figures of 57.6 and 60.1 MPG respectively.
CO2 emissions read at just 114g/km and 125g/km.
Copyright Press Association 2013