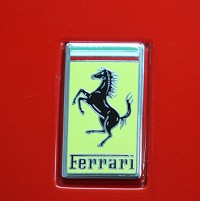 Fiat Chrysler Automobiles (FCA) has announced plans to move away from Ferrari.
The strategy involves selling a tenth of the high-end car manufacturer on the general stock market.
For decades motorists buying a car in the luxury sector have been lured by Ferrari, and soon they will be able to buy shares in the company too - certainly on the US market and possibly in Europe too.
The remainder of Ferrari shares will be divided between FCA shareholders with the deal being completed in 2015.
FCA plans to raise money to fund a 48 billion euro (£38 billion) investment plan, and the sell-off is part of that scheme.
Sergio Marchionne, the chief executive of Fiat Chrysler, calls the pursuit of separate paths "proper". It follows the Fiat/Chrysler merger being cemented with a New York listing on the stock exchange earlier this month.
Luca di Montezemolo, the Ferrari president, left the company the next day. He has publicly quarrelled with Mr Marchionne, who has been an outspoken fault-finder on Ferrari's failure to land a world Formula One title for seven years.
Copyright Press Association 2014