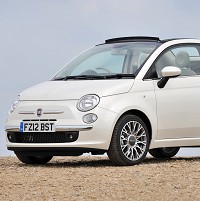 The 100,000th Fiat 500 was sold in May, only four and a half years after it was first made available to customers in the UK.
This comes after news that the popular supermini was in the top ten biggest selling cars at 2,600 units in April, according to official UK data.
As many as 80% of Fiat 500 sales were 1.2-litre petrol engines and 48% bought were in the high range Lounge trim. Bossanova white, Pasodoble red, Volare light blue and the metallic Crossover black were the most commonly sold colours of the car.
The three-door hatchback has also been available in various limited editions since its launch, with customers seeking especially comprehensivecar insurance after buying rare models such as the 500 Pink, 500 Matt Black, 500byGucci, and 500byDiesel.
Marketing director at Fiat Group Automobiles UK Ltd, Elena Bernardelli, said: "We were always confident that the 100,000 landmark would come.
"It's a wonderful achievement and I am sure that we will see many more sales successes in the years to come."
Copyright Press Association 2012