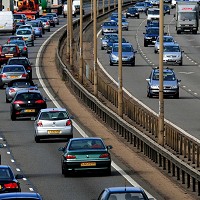 An increase in the number of people working from home has led to fewer people commuting to work - but those who do now travel further now than at the beginning of the last decade, Census figures show.
One in 10 people worked from home in 2011, compared with only 9.2% in 2001, and another one in 12 (8%) either had no fixed place of work or worked offshore. This means that only 81% of workers regularly commuted in 2011, a drop of five percentage points from 2001.
However, the average commuting distance in England and Wales rose from 8.3 miles (13.4km) in 2001 to 9.32 miles (15km) 10 years later.
People living in East Anglia travelled furthest in 2011 - at 10.34 miles (16.6km) - while those living in the capital had the shortest average commute at 6.83 miles (11km).
The figures also show that men commute further than women, as more than two in five men (42%) commuted more than 6.2 miles (10km) in 2011, compared with only three in 10 women (30%).
RAC spokesman Simon Williams said: "These findings are interesting and while many of these journeys will involve several different modes of transport the car will no doubt be central to helping people be able to commute longer distances.
"Our own research from the RAC Report on Motoring 2013 revealed that people are very reliant on their vehicles with 78% saying they would find it very difficult to adjust to car-free lifestyle."
Copyright Press Association 2014