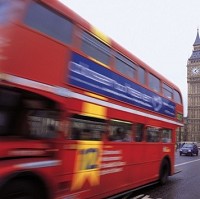 Half London's workers take the Tube, train or bus to work with under a third driving, the 2011 Census revealed.
The proportion using public transport to reach work in the capital dwarfs rates in other regions where they ranged from 6% (162,000 people) in the South West to 13% (151,000) in the North East.
The tables were turned when it comes to travelling by car, motorbike or taxi. Almost a third (31% or 1.3 million) did so in London, compared to 67% (2.8 million) in the South East and three-quarters (one million) in Wales.
Meanwhile, with 17% (439,000) the South West had the highest proportion walking or cycling and the biggest - 7% (178,000) - working from home.
Nationally, 57.5% drove a car or van to work with 10.7% walking and 7.3% using a bus, coach or minibus. Some 5.2% went by train with those using the underground, light rail, metro or trams accounting for 3.9%. The Census found 5.4% work from home with 2.9% cycling to work and 0.8% using a motorbike, scooter or moped, for which motorcycle breakdown cover is a must. A further 5.1% were driven as passengers in a car or van with just 0.5% taking a taxi.
Copyright Press Association 2013