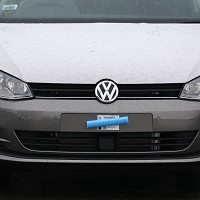 Volkswagen says fewer of its cars are affected by inaccurate fuel consumption and carbon emissions measurements than first thought.
In November, the German manufacturer suggested that CO2 levels may have been set too low for 800,000 of its vehicles.
But following extensive internal investigations and measurement checks, it has since revised this figure to 36,000.
The Polo, Golf, Jetta and Passat are four of the nine affected models listed by the company.
VW claims the deviations found in these vehicles amount to a few grams of CO2 on average. It also says the estimated negative impact of the problem - some Û2 billion (£1.4 billion) - has not been confirmed.
A total of Û6.7 billion (£4.8 billion) has already been set aside to deal with the fallout of the emissions scandal, in which it emerged that the manufacturer fitted 11 million diesel cars around the world, including 1.2 million in the UK, with software designed to cheat emissions tests for nitrogen oxide.
VW sales in the UK have plummeted since then, with new registrations down 3,238 year on year in November.
Copyright Press Association 2015. Motoring News articles do not reflect the RAC's views unless clearly stated.