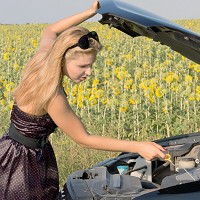 Just one in every 25 motorists makes a conscious decision about which type of oil is used in their vehicle engine, a survey suggests.
The vast majority either do not care or go along with whatever is suggested to them, according to the Institute of Advanced Motorists.
The organisation says it interviewed 1,000 drivers, on behalf of oil company brand Mobil 1, and established that just 4% make their own choice of engine oil.
Two-thirds are ignorant to the type of oil most suited to their vehicle's engine (65%) and around the same proportion have no clue about what brand of oil is recommended by the manufacturer of the car they drive (69%).
This suggests that oil choice may affect the likelihood of having to call on your breakdown cover .
Tests are said to have shown that good-quality oil better protects the most vulnerable parts of an engine, making for more efficient fuel consumption.
The institute's Tim Shallcross said: "The wrong grade or specification can increase engine wear dramatically, risking expensive breakdowns."
A spokesman for ExxonMobil, which produces Mobil 1 oil, said: "Do a little research, talk to your mechanic and express a preference. It's your car and your money, and using the right engine oil will make both go further."
Copyright Press Association 2013