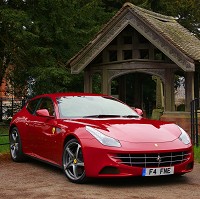 Britain snaps up more Ferraris than any other country in Europe it has emerged, as the car maker's profits reach record highs.
Ferrari's plans to reduce deliveries while increasing profits seem to be on track as the company's top line and end profits are up for the first six months of the year.
The luxury company delivered 3,631 cars in this period; 3.6 per cent fewer than the equivalent 2013 figure - but revenues were up 14.5 per cent at £1.35 billion and profits rose 5.2 per cent to £185 million.
The Italian thoroughbred manufacturer owes a debt of gratitude to its UK customers, as sales here led the way in Europe with 408 cars shipped to these shores.
This compares to only 131 shifted in its home country, where an economy still in recovery means the cars are selling slightly better. but not as well as elsewhere in Europe.
The company's pacific market is also doing well as deliveries in Japan and Australia have risen.
Luca di Montezemolo, Ferrari's outgoing chairman of 23 years, said: "It gives all of us here at Ferrari a sense of great satisfaction to continue to achieve record financial results, particularly given that production was limited.
"I am sure that in a few months' time, we will be marking the end of a truly extraordinary and unprecedented year."
Copyright Press Association 2014