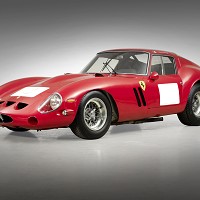 Ferrari appears to have resoundingly proved itself as the most collectible classic car marque.
Nine out of the top 10 largest sales over a historic weekend of sales events in the US were of the Italian thoroughbreds, one of which set a new classic car sales price record.
An extremely rare 1962 Ferrari 250 GTO was sold for a record breaking $38,115,000 (£22,843,633) by Bonhams in California.
The popularity of the luxury car brand's classics among enthusiasts was confirmed not only by the record, but also by the fact that the six highest price cars sold over the weekend all bore Ferrari's rampant horse mark.
In fact the only non-Ferrari among the weekends top 10 sales was a 1965 Ford GT40 Prototype Roadster, which RM Auctions sold for $6,930,000 (£4,144,350).
Overall the 'big three' classic car auctioneers; Bonhams, RM Auctions and Gooding & Co, brought in $399 million (£238.6 million) with an average price of $535,648 (£320,277) per car.
This was up from a total of $312.1m last year at an average of of $416,696 per car.
Numbers don't lie, classic cars are in vogue and Ferraris are in the spotlight.
Copyright Press Association 2014