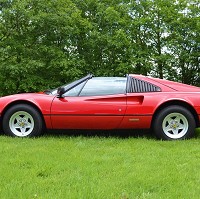 A 1 979 Ferrari 308 GTS sold for a record-breaking price of more than £80,000 at the recent Silverstone Auctions event.
Overall, more than £5 million was taken at the two-day sale, with the Prancing Horse securing a premium inclusive of £82,225 - more than £50,000 over its lower estimate.
Elsewhere another model record was broken with a 1989 Ferrari 328 GTS going under the hammer for £77,050, and a 1996 Ferrari 456 GT selling for almost double its estimate at £49,450.
The most expensive car of the festival was a 1950 Healey Silverstone, which sold for £212,750.
This was followed by a 1996 Jaguar XJ220, which sold for £187,450 - more than £17,000 over its upper estimate.
The sale, part of the Silverstone Classic motorsport festival, also drew bids for a rare and stylish 1953 Bristol 403 Saloon, which was bought for £62,100, and Sir Jackie Stewart's first race car, a 1962 Marcos GT Xylon, sold for £41,975.
Nick Whale, managing director of Silverstone Auctions, described the weekend as "fantastic", adding that he was delighted it had achieved a record sales feat.
Copyright Press Association 2014