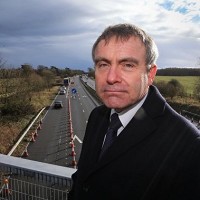 Almost one in five drink-drive convictions are now accounted for by women, a new survey shows.
The research shows that the proportion of women caught driving while over the legal alcohol limit has nearly doubled over the last 15 years.
According to the Rees Jeffreys Road Fund, in 1998 around 9% of drink-driving convictions issued in relation to women drivers.
But this figure has now risen to 17% with just over 800 women failing a breath test after an accident during 2013.
Robert Goodwill, the road safety minister, says with drink-driving having the potential to take and devastate lives the Government is introducing a new offence of causing serious injury by dangerous driving.
And he says the law is being changed to make it easier for drink drivers to be prosecuted.
The survey shows that of the women questioned three-fifths do not know what the legal alcohol limit is. Almost all of those surveyed say they think they can drink more than average before being over the limit.
Some 59% of those who admit they've driven after drinking say they did so as they felt physically okay to get behind the wheel.
Significant proportions also say they drove after drinking as they had no other option; believed the chances of being caught were low, or thought it would be okay if they were careful.
Copyright Press Association 2014