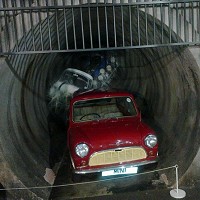 The Classic Film Festival survey has revealed the UK's favourite driving movies, with The Italian Job (1969) and Bullitt (1968) first and second in the favourite classic motoring movie category.
More than 1700 car and film fans voted in the poll, with favourite films divided into the following six sections: favourite classic motoring movie; favourite classic car in the movies; favourite classic bike in the movies; favourite classic car chase; favourite classic in television and the classic they most want to see in a movie.
Favourite classic cars in the movies were voted Goldfinger's Aston Martin and The Italian Job's various Minis, while the favourite classic motorbikes list was topped by The Great Escape's Triumph and Easy Rider's Harley Davidsons.
The UK's favourite car or motorbike chase list was topped by The Italian Job's Mini chase just ahead of the Dodge Charger pursuit in Bullitt - not scenes to copy in your own vehicle unless you want to risk a car insurance claim, or worse.
Television's best cars were voted Inspector Morse's Jaguar MK2 and the Audi Quattro in Ashes to Ashes.
Voters chose the E Type Jaguar and the Mini Cooper as the classic cars they most wanted to see in a mainstream movie.
Copyright Press Association 2012