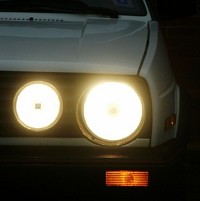 About 2.6 million cars are being driven illegally on Britain's roads due to defective lights, researchers have warned.
One in 10 vehicles checked in a study for Halfords was found to have a failed headlight, sidelight, rear or brake-light judged to significantly increase the risk of an accident.
Around 1.16 million cars tested in 2012 fell short of the legally required MOT standards due to the condition of their lights.
The findings of the survey, conducted across 10 major UK cities, highlights the importance of having comprehensivebreakdown cover in place before taking to the road.
Researchers monitored cars at busy junctions in the early evening rush hour and recorded the number with faulty lights.
The typical penalty for this offence is £60 and three points.
Missing or non-working brake lights, which can leave motorists unable to judge when the car in front is slowing, were found to be the biggest problem, followed by non-functioning headlights.
Glasgow, where 13.3% of vehicles was found to have defective lights, was rated the worst city - just ahead of Newcastle upon Tyne on 13.1%.
London, where just 6.8% had faulty lights, proved to have the best maintained vehicles.
Copyright Press Association 2013