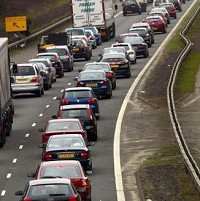 The first part of Scottish motorways improvement work has been completed.
Part of the £500 million upgrade has seen a railway bridge manoeuvred into position above the M8.
The 2,000-tonne bridge will take passengers on the Rutherglen-to-Whifflet train line over the new motorway, which is being built south of North Lanarkshire's existing A8.
This scheme and others on the M74 and M73 are expected to be finished a year next spring when drivers can experience the improvements for themselves.
People can view the work that went into the bridge, thanks to project commissioner Transport Scotland , which has issued a special time-lapse film of the bridge being put into place.
Transport Scotland's Graeme Reid says the video gives viewers a true picture of all the challenges faced in finishing a scheme of this dimension.
He says it is the start of many transport infrastructure upgrades being undertaken during the motorway improvements initiative.
Network Rail handed over the Rutherglen-to-Whifflet line to Scottish Roads Partnership for a 15-day period from July 11. The consortium, which is responsible for running, financing, constructing and designing the motorway improvements, gave it back last Sunday.
The Baillieston-to-Newhouse M8 stretch will be upgraded to a motorway standard. Improvements will be made to the road's links with the M73 at Baillieston.
There will also be a junction built at Shawhead linking to East Kilbride's A725 road and further ones created at Chapelhall and Eurocentral.
The A725 will be restored to its former position as part of Raith Interchange improvements near the Lanarkshire town of Hamilton.
In addition, the A-road will see an underpass as well as bridges supporting Raith roundabout.
Road experts predict that these upgrades will slash driver's journey times on the busiest M8 sections by up to 18 minutes.
Copyright Press Association 2015