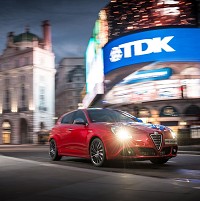 Interest in Alfa Romeo's ultra-limited edition Giulietta is sure to be Fast & Furious thanks to its link-up with the sixth instalment of the high octane Hollywood movie series.
Fast & Furious 6 (FF6), starring Vin Diesel, Paul Walker and Dwayne Johnson, aka The Rock among others hits the cinemas this week and Alfa Romeo is marking it with six Giulietta 1.4 TB FF6 Limited Edition models.
FF6 takes the franchise to the streets of London and all six of the cars are to be sold through the firm's flagship store at Motor Village Marylebone in the capital.
Each will feature laminated signatures from cast members on the dashboard and come with a numbered plaque.
The company also wants to give the six lucky buyers a day's stunt driving training with drivers who worked on the set of the film, subject to confirmation.
The movie is packed with stunning cars and the Giulietta FF6 looks just as stunning.
A breakdown of its specifications reveals its 170bhp turbocharged 1.4-litre MultiAir engine, Sportiva trim, array of special equipment and a DNA drivetrain mode selector.
The cars are not yet on sale and those interested will have to pay £25,675 and hope to get lucky, in order to get their hands on one.
Copyright Press Association 2013