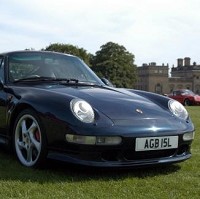 Getting behind the wheel of a high-powered car can make heart rates soar more than skydiving, researchers at Mini and the University of Portsmouth are suggesting.
During tests at Goodwood Motor Circuit, a research team found that drivers' anxiety levels were almost four times higher than normal.
Being in a Mini John Cooper Works as it sped round the circuit, they say, resulted in driver heart rates rocketing to 181 beats per minute from an average resting rate of around 100.
The excitement and anxiety also got people's adrenaline flowing faster than skydiving, riding on a rollercoaster, making a marriage proposal or watching a scary movie - boosting their reaction times by around 6%.
The University of Portsmouth's Dr Chris Wagstaff says the effect can be explained by a 'fight or flight' response, which evolved in humans to help us overcome or escape predators.
This survival instinct, he adds, results in both our heart rate and reaction times increasing, but in the absence of predators is something some people seek to trigger by taking part in risky or exciting activities.
Copyright Press Association 2015