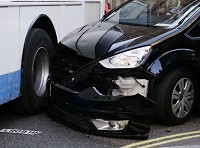 Farmers make the lowest number of road accident claims and top the list of safest drivers in the UK, it has been revealed.
At the other end of the scale, computer engineers have the worst road accident record, with sales managers in second place, chefs in third and students and doctors following close behind.
The figures are based on the number of claims made by different professions over the last three years, and were collated by Churchill car insurance.
Behind farmers, other professionals with good road-safety records are aircraft fitters, stores personnel and ambulance drivers.
Tony Chilcott, head of the company, said: "The poorer claims experience associated with computer engineers, sales managers, chefs and doctors most likely reflects the long hours they work in a very stressful job. As a result, they are more likely to be tired when driving and possibly distracted.
"Conversely, those who have jobs which involve working outdoors or who drive for a living tend to have fewer accidents.
"Farmers have a lower claims frequency because they live and work in rural areas with less congestion, which are likely to be more tranquil to work in than a stressful office environment."
Copyright © Press Association 2009