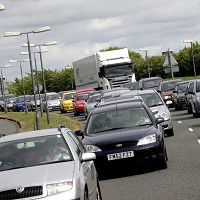 New figures from the Office for National Statistics (ONS) suggest that Fareham is the most car-dependent town in the UK - with its residents more than twice as reliant on vehicles than those in Manchester or Nottingham.
The ONS found 538.7 cars registered to addresses in the Hampshire town for every 1,000 people living there - a car-to-residents ratio which is 65% higher than in Portsmouth; 52% higher than in Southampton, and twice as high as that of London.
Other towns in the South East, such as High Wycombe, Basingstoke and Bracknell, also had more than half as many cars as residents.
Bigger cities with good transport links were found to have a far lower car-to-people ratio, with 234.3 cars for every 1,000 residents registered in Manchester and 252 in Nottingham.
Fewer than 300 cars per 1,000 residents were also registered in Oxford and Cambridge, while in Brighton and Hove the figure was 315.
However, not even Fareham gets close to the car-to-people ratio of Zgierz in Poland, where there are 1.3 cars registered for every resident.
Copyright Press Association 2014